Forklifts and pedestrians: How close is too close?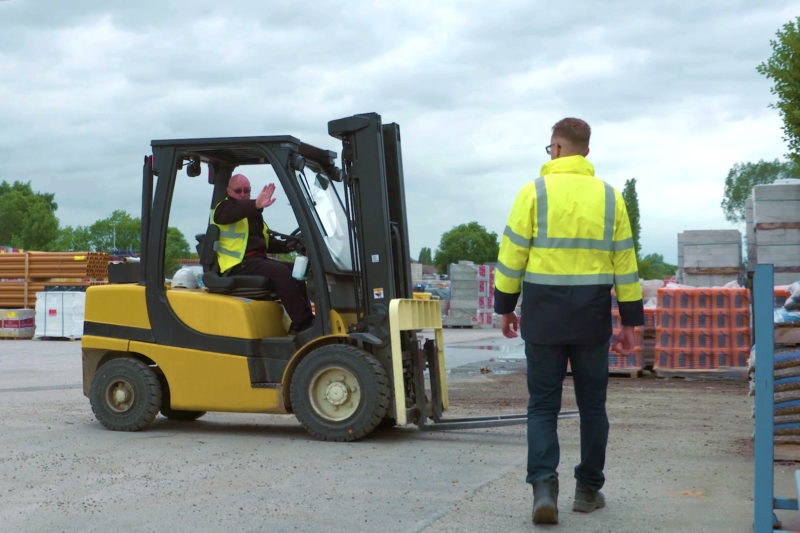 Here we look at what we must do to keep forklifts and pedestrians apart. 
Each year, 1,300 workers in the UK are seriously injured following accidents involving forklift trucks. Forklift truck accidents have revealed that nearly 75% of 'impact with a third person' events involve pedestrians that were completing tasks unrelated to the immediate truck operation at the time of their accident.
Wherever it is feasible to segregate your operating areas, it is best practice to do so. But how do we deal with areas that can't be physically segregated? It's here that life-changing accidents and injuries too often occur.
To try to minimise the risk, many companies opt for a generic safe distance rule across their entire site. This might be a set distance, or a minimum number of pick points that are expected to be maintained at all times.
But the danger of fixed-distance rules is that not all tasks carried out on your premises are the same, and neither are the associated risks. Every lift must be judged on its own merits, if the chance of an accident is to be adequately reduced. The best way to do this is via risk assessment, followed up with the relevant Safe Systems of Work.
Targeting the trend – lost loads
One recent trend in the news is those working alongside forklifts — often colleagues or delivery drivers — suffering life-changing injuries (or worse) as a result of a truck losing its load during operation. Many suffer crush injuries while trying to steady the load or get involved in the loading or unloading of their vehicle. Indeed, in one recent case, a delivery driver was fatally crushed when an overloaded forklift became unstable and tipped over, as no safe distance was kept between them.
Tragically, injuries to pedestrians caused by lost loads are almost always avoidable because the pedestrian should never need to be in the operating area in the first place. Should a forklift lose its load with no pedestrians in proximity, the worst-case scenario is damage to your stock or equipment. This is still an issue for budget-conscious businesses, but far preferable to the devastating consequences should a pedestrian become involved.
As stated earlier, nearly 75% of 'impact with a third person' events involve pedestrians on an unrelated task, but around half of the remaining pedestrian impacts are with delivery truck drivers not respecting safe working distances while their vehicles are being unloaded. In areas where physical segregation often isn't possible, there need to be robust Safe Systems of Work in place to reduce the risk. These could include the following measures:
Traffic management – including the likes of one-way systems to reduce the risk of collisions;
Time rotation – so that forklift and pedestrian tasks are not being carried out simultaneously in the same area;
Clear communication systems – between the two parties that alert one that the other is in the area;
Site inductions – to familiarise visiting drivers with procedures, site layout and access routes;
Personal Protective Equipment– to be worn by all staff to ensure they are visible and safeguarded as much as possible;
Safe working procedures – such as delivery driver position (e.g. remain in cab), key control during loading/unloading, and establishing safe operating distances;
Clear signage – to reiterate the above (ensuring that materials are available in relevant languages).
So when forklifts and pedestrians must operate in proximity, how close is too close? Well, there's certainly no one-size-fits-all answer when it comes to safe operating distances.
A safe distance for your operations
The best approach is to create separate Safe Systems of Work for the different forklift operations carried out on your site, each taking into account the specific risks that the task presents. A good start is to consider the following:
Width of the load – the longer the load, the wider the area of impact, should it fall
Picking height – the higher the operating height, the wider the area at risk below
Load structure, make up and contents – further distance will be required if loads are volatile, high-risk or prone to movement in transit
Driver distraction – if the proximity of pedestrians could affect driver concentration, consider putting more distance between them
Make sure a safe distance is kept between forklifts and pedestrians
Once you've assessed safe distance throughout your operations, the next step is to communicate it, and be sure to include everyone who may need to access an area where forklifts operate, however rarely this may be. This shouldn't just include staff but also contractors and visitors, particularly delivery drivers whose vehicles become part of your operations during the loading/unloading process.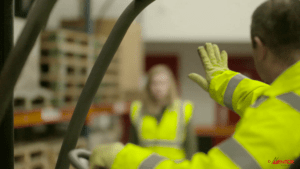 Remember, your safety measures are only effective if they're being followed, so raising awareness and fending off complacency is key.
Not worth the risk
As someone responsible for health and safety, you'll need no reminding of the implications if you and your organisation are found by the HSE to have failed to identify risks or provide adequate training and instruction. It could result in a hefty fine or even a jail term, but that pales into insignificance when compared with the devastating and life-changing effects a forklift-related injury can have on the victim along with their colleagues, family and friends.
Ultimately, as a manager or health and safety representative, it's up to you to ensure staff follow processes and procedures that will keep them safe and your business compliant and efficient. But with the right policies, communication and guidance, you can take simple, practical steps towards developing a culture of personal responsibility, where everyone takes ownership of their own safety and that of those around them, to the benefit of everyone.
Contact us for further information.
Find this helpful?
Signup to our email notifications to receive alerts when we publish new blogs. We promise not to spam your inbox, you will just get a short snappy intro to Health and Safety blogs we think you will love.